The safety of our patrons, artists, and staff is our highest priority.
View our Performance Safety Policy
Janet Langhart Cohen's Anne & Emmett
Janet Langhart Cohen's Anne and Emmett  is an imaginary conversation between Anne Frank and Emmett Till, both victims of racial intolerance and hatred. The beyond-the-grave encounter draws the startling similarities between the two youth's harrowing experiences at the hand of societies that would not protect them.
DATE:     Tuesday, December 7, 2021
TIME:     4:30pm & 5:30pm
LOCATION: YPC – 641 Fairview Avenue N, St Paul, MN  55104
SHOW RUNS: February 11 – 27, 2022
Schedule an Audition
Appointment Only.
Auditions will be held at YPC's Headquarters/Rehearsal space – 641 Fairview Ave N, Suite 191, St Paul, MN  55104 (in the Fairview Business Center) – on Tuesday, December 7, 2021 at 4:30 PM and 5:30 PM; auditioners need only sign up for one of the two slots
Please prepare a one minute dramatic monologue
Please bring headshot or photo and resume'
Non stipend positions.
CASTING:  
Anne Frank (Young Jewish girl – look 15 years old)
Emmett Till (Young Black boy – look 14 years old)
Otto Frank (Anne's father)
Mamie Till (Emmett's mother).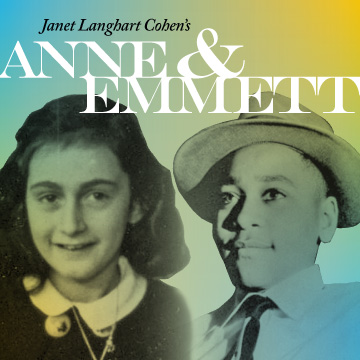 YOUTH PERFORMANCE COMPANY
AUDITION GUIDELINES
Auditions are closed. Parents and friends are not allowed to observe the audition. This enables the young actor to completely focus all of his or her attention on the audition.
The audition structure is as follows:
10-20 actors will audition at one time; with auditions being one hour per group
If the show is a musical, the choreographer will teach the group a simple dance routine to see how well the actors move
If the show is a musical, the music director will have each actor sing a portion of a song without accompaniment. In addition, actors may be asked to do scales.
If the actor has been asked to prepare a monologue – each actor will stand up and perform their monologue for the production staff.
The director may ask the actors to improvise a scene or read from the script.
YPC requires all staff and actors (age 12+) to be fully vaccinated for COVID-19. We also require everyone to wear a mask while inside.  To ensure the safety of everyone, we will follow all CDC and state guidelines throughout the production period.
Youth Performance Company is committed to equity, diversity and inclusion in all areas of our work. We seek to cast actors who reflect the children in our audiences.